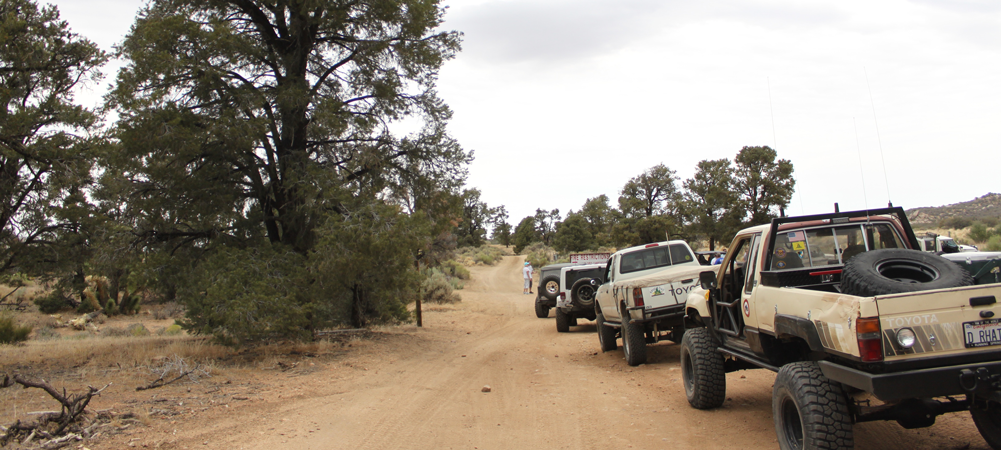 All vehicles must be street legal and maintained to conform to highway safety standards, as well as meet the minimum requirements listed below. Have the items ready to display at inspection.
Guests on runs must have all items.
Members are required to have all items.
• Roll bar or full cage or factory hard top
• Functioning parking brake
• Tow strap or rope. No chains or straps with hooks. Recomended rated at 2 times vehicle weight.
• First Aid Kit. It should be mounted/stored in an easily found and accessible location.
• Jack capable of lifting the vehicle and a tool capable of removing lug nuts
• Spare tire equal to or within 2 inches of existing tires on the vehicle. No temporary spares
• Fire extinguisher with gauge indicating good, appropriatlely stored
• Seat belts for driver and all passengers
• Adequate attachment points front and rear, i.e., tow hooks, receiver, etc.
• Battery hold downs, no bungee cords
• Functional 40 channel CB radio. Handheld (walkie-talkie) types are acceptable but not recommended. Club Channel is 4. Many members have 2 Meter Ham Radios for improved communications.
Note: Consumption of alcoholic beverages on the trail is illegal, dangerous, and strictly prohibited. Anyone violating this policy or any illegal activity will be barred from all club activities.